The Australian Lions Wellbeing Foundation has two Awards which are presented to Lions and members of the community for their service to the community. It has been fantastic to send certificates out across the country, and it's always inspiring to learn about the recipients. The two awards available are:
James McLardie Award – In recognition of outstanding service to the community
Dr Harry Jenkins Fellowship – recognising the value of service given to Lions Clubs International/or wellbeing Promotion
To find out more about nominating someone for an ALWF award click here
ALWF Consultant, Jarrod Kreft, was recently involved in two presentations. If your club has presented an award we would love to feature your worthy recipient.
Flo, 95 years young and connecting with fellow Lions
Florence Jenkins OAM, 95 years young and has been a Lion for 17 years. She initially joined the Lions Club of Auburn Lidcombe and when that closed transferred to Parramatta. 
Flo has worked tirelessly for Barnardo's over the years. While she is now fairly immobile due to her age, she still looks after the Lions Club of Parramatta's Glasses Collection project and is our Welfare Officer sending out cards for all member's birthdays, when members are feeling unwell and sympathy cards when Lions from across the District pass away. 
Lion Flo was awarded the Australian Lions Wellbeing Foundation James McLardie Award. Congratulations Flo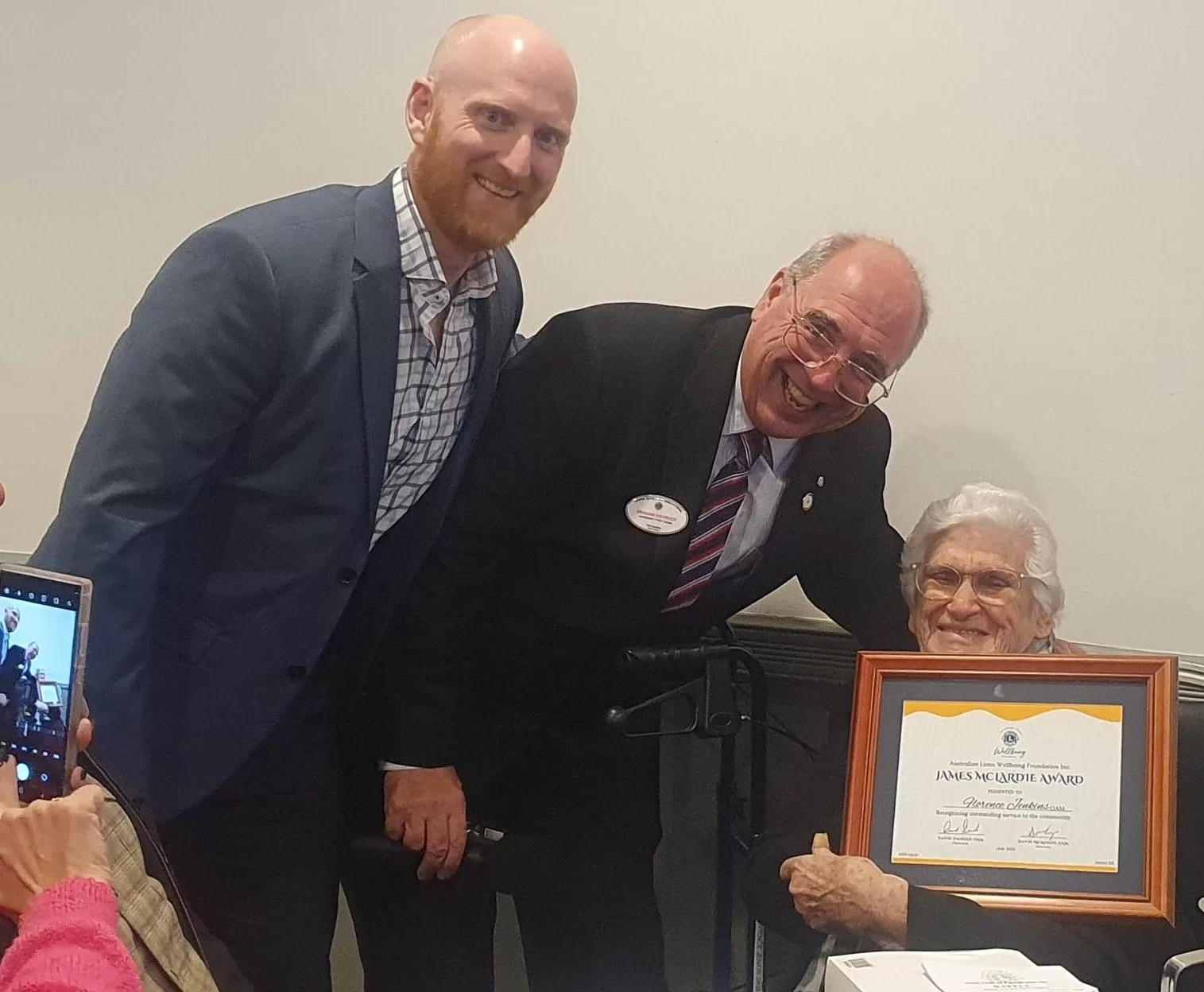 Caroline – Supporting young people
On Tuesday the 4th of July, the Lions Club of Manly had its annual changeover dinner with the incumbent President, Lion Jarrod Kreft stepping down and welcoming Lion Caroline Holdstock into the role. 
As part of the changeover, the club awarded incoming President Caroline with an Australian Lions Wellbeing Foundation, Dr Harry Jenkins Fellowship Award for her service to the club and in particular, in support of the youth in the community. Caroline worked tirelessly to reinvigorate the Club's Youth of the Year programme, after a 26-year hiatus, which saw their candidate make it through to the state final. Not only this, the candidate had such an amazing experience, he's started sharing his experience with his friends encouraging them to participate next year. Congratulations Caroline on your achievements and good luck for your term as President.